Because I feel this blog has been tragically short on vintage suits so far, here's a post all about Leyendecker and the Arrow Collar Man.
The Man Your Man Could Smell
like of the early 20th Century.
1920s Twilight.
Arrow Collar Man didn't really have a personality the way The Man Your Man Could Smell Like does, though. He was more just endlessly handsome and glamourous, which is probably all you need in your shirt adverts in 1920s America. The campaign was incredibly successful, although that's probably less to do with the advert itself and more to do with the fact that the concept of shirts with collars already attached was astonishingly tempting when compared to the prospect starching all your collars separately.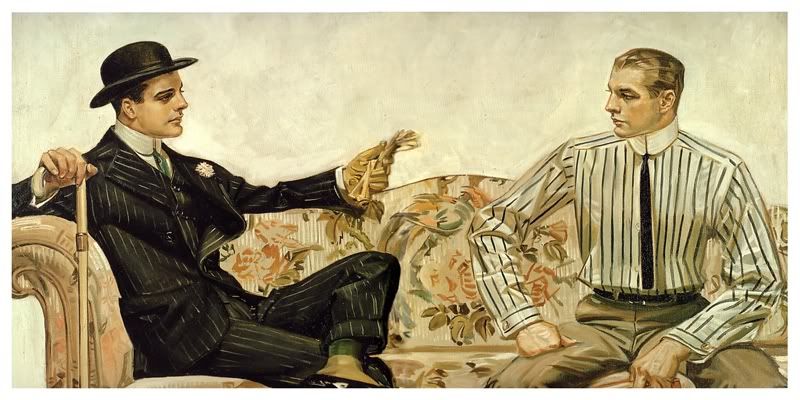 Sherlock Holmes and Captain America (I wish).
Despite running for over 20 years, the Arrow Collar Man never seemed to age, which is particularly impressive since Leyendecker used the same model the entire time. I find them a lot more appealing than today's equivalent suit/fashion ads, to be honest, because using an illustration is an acknowledgement that people can't/don't have to be this perfect-looking. With a modern photo ad, the viewer sees a suit and is supposed to think, "That's what the suit looks like," with the photoshop/airbrush artist hopefully an invisible presence somewhere far away from either the model or the camera lens. But with a painting you have the model at one end, the viewer at the other, and in the middle the artist saying, "Hey guys, I'm here to make everyone look better and we both know that!" Photographs imply authenticity, but the point of advertising isn't
authenticity
, it's to show the product from its good side.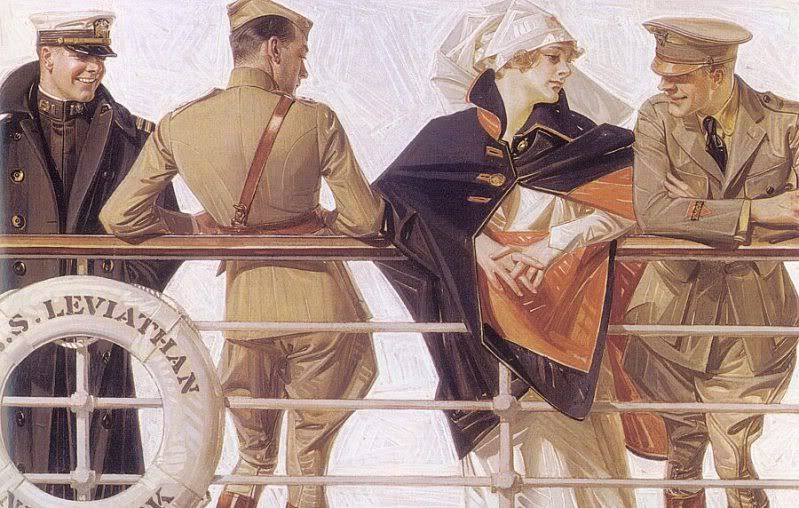 I think it's safe to assume that at least two of those soldiers are not remotely interested in the nurse.
There's a definite element of homoeroticism in a lot of Leyendecker's illustrations, although I have to wonder how much of it was ever picked up on by the general population circa 1905/1920/etc. Most of the time it's rather coy, like the picture above, although occasionally you get adverts that to the modern eye seem entertainingly obvious: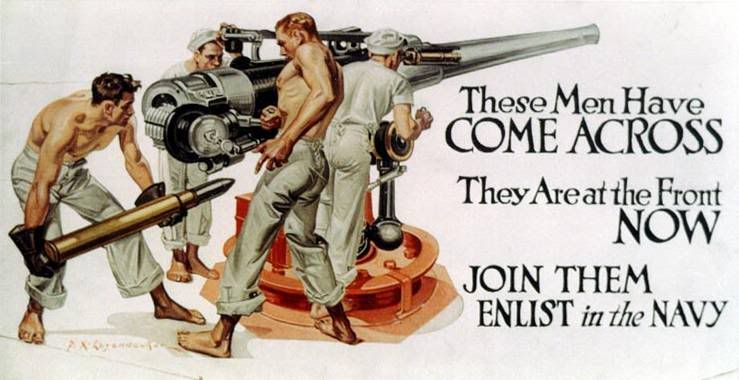 It's like he was going for "world's most phallic advert" award or something.
I mean, what is THAT? "Join the Navy, where glistening, shirtless men thrust huge missiles into waiting holes"? And there's more: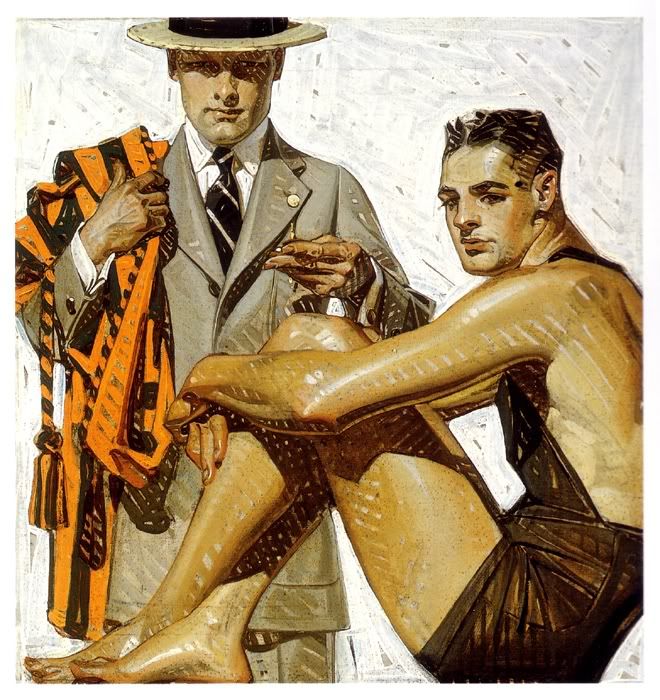 o rly?
But it's not just a "Leyendecker was gay so he drew a bunch of hot men" thing, I don't think, because he was being hired consistently for this work, meaning that
not
just gay dudes were buying the products he helped advertise. Arguably the Arrow Shirts could have been marketed directly at women buying for their husbands, but Leyendecker's magazine covers and other adverts weren't. To me it indicates that Leyendecker's men (and the men of early 20th ads in general, although to be honest I don't know much about this) aren't just objects of desire, they're meant to be enviable, and to be emulated. Much like women in modern ads.
Lynx/Axe body spray dudes
-- probably an unfair comparison, but you get what I mean. All ice-cream ads in 2011 are women orgasming over the sheer gloriousness of ingesting £2.50's-worth of processed frozen chocolate, whereas a Leyendecker ad for ice-cream in 1911 would probably be two hearty chaps at the tennis court holding ice-creams and looking like they're in the middle of a discussion about tie-pins, the German Problem, or stock options.
JUST CHILLAXIN' HERE IN MY GOLFING UNDERWEAR...
Check out this sock ad. First of all:
sock ad
. Obviously it's charmingly archaic by our standards, especially the snappy slogan ("The most extensively sold make of Men's Half Hose in existence"). This is
not
the way to advertise socks in 2011. Socks are functional; sock ads in 2011 are functional. Men only get to be sexy if they're driving a new car or using a new shaving product, and then it's the
product
that's sexy, not the man. But I think we can all agree that the socks are not what makes this image awesome.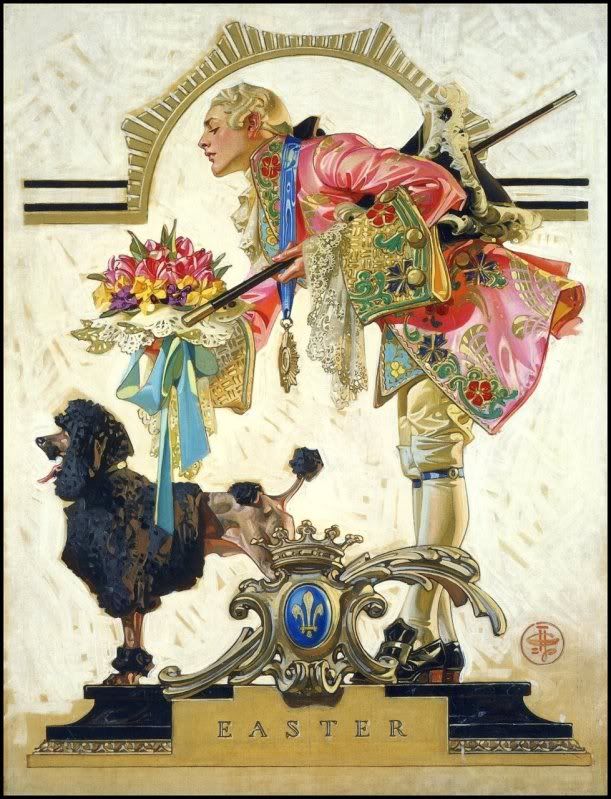 Nothing says "Easter" like an 18th century French courtiere and a poodle.
What really cracks me up is when Leyendecker's bosses give him creative control. If you google-image his art you get just as many magazine covers as adverts, and most of those magazine covers are totally impossible to parse. He seems to enjoy historical themes, but not usually for any... relevent reason...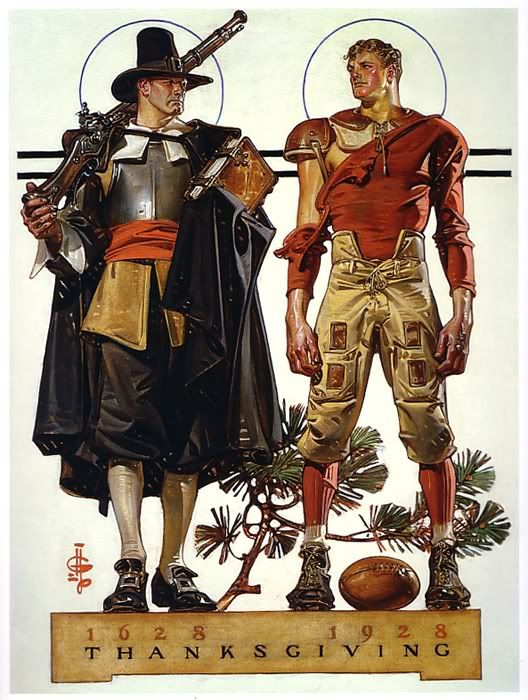 Of course this picture represents Thanksgiving. OF COURSE.
Actually, looking at the Thanksgiving picture above, I can help thinking that 1920s American football uniforms are sort of steampunk. I would so totally wear that! Then again, I'd probably also wear the courtier outfit as well, so long as you removed some of the lace.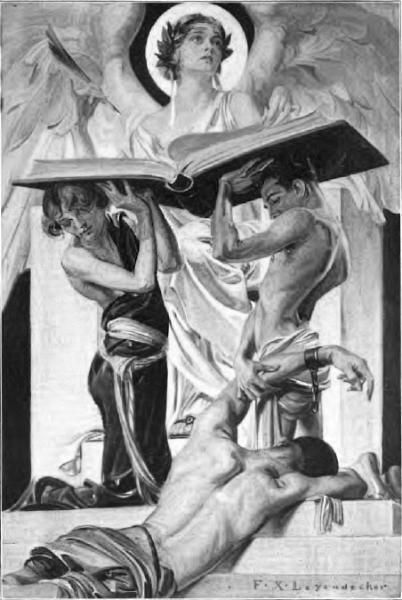 You know you'd watch this movie in a shot.
Despite the fact that most of Leyendecker's paintings are very obviously posed scenes, I find it much easier to imagine a narrative for them than I can for modern adverts/fashion spreads. Possibly this can be put down to me being a pleb who finds it easier to interpret "art" in a painting rather than a photograph, but I think it's more likely thanks to the expressiveness of the models. Take this current Michael Kors ad:
N.B. I think the man on the far right is Giles from Buffy.
Quite apart from the whole female gaze/male gaze thing, I rather love Leyendecker's love of unnecessary costuming. Check out this newspaper cover:
Why not
?)
To finish, here's one of my favourite Leyendecker illustrations, another (quite early: 1907) Arrow Collar ad. I particularly love this one because of the variety of styles displayed in the lineup -- two different (and very stylish!) businessman looks bookending the group, a woman with a riding crop, a young dandy out for a walk in his flat-cap, and the 1900s equivalent of a prepster. The woman I particularly like, of course. It's highly unlikely that the ad would be marketing to the women-who-wear-suits crowd (not exactly a big market in 1907, although I assume she is in fact wearing some type of riding outfit) but she's still there and looking badass.

The Arrow Collar Man, Virginia Woolf, Dorian Gray, Sebastian Flyte, and Dr John Watson.